Chair's Welcome
Welcome to the John W. Deming Department of Medicine at Tulane University School of Medicine in New Orleans. Our department is committed to excellence in medical education, research, and clinical service. We are committed to improving the health of our local communities through education, engagement, and access to healthcare. Our faculty are comprised of outstanding physician scientists, expert clinicians, and leading educators.
Our doctors deliver clinical services at Tulane Medical Center, the Southeast Louisiana Veterans Health Care System, and the University Medical Center of New Orleans. These institutions offer a wide range of educational, clinical, and research opportunities. Our faculty are among the most respected clinicians in the region and country.Read More from Dr. Thannickal.
The John W. Deming Department of Medicine is also one of the largest and most successful research departments in the School of Medicine. Our research extends from the basic sciences to physiology and pathobiology to the application of knowledge in the clinical and community settings. The faculty are also prominent members of a number of university-wide Centers such as the Cancer Center, the Bioinformatics and Genomics Center, ¬¬the Center for Translational Research in Infection and Inflammation, the Gene Therapy Center, the Renal and Hypertension Center, the Abdominal Transplant Center, and the Center for Aging.
In addition to our clinical services and research programs, we offer innovative educational programs at all levels: medical (MD, MD/PhD) students, graduate (PhD) students, residents, fellows, and continuing medical education. Please visit the appropriate areas of the website to learn more.
Our department is most proud of the people who make up an talented and dedicated team, from staff to trainees and faculty. Our guiding principles and values are respect, ethical integrity, communication, accountability, and drive for excellence. We invite you to experience the collaborative, inclusive, energetic, and innovative culture here at Tulane.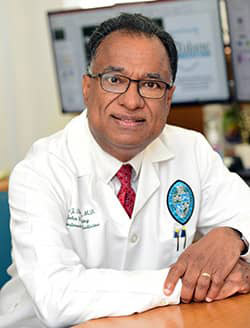 Victor J. Thannickal, MD
Chair, Deming Department of Medicine
---
---
---
---